Dr. Christine Vidouria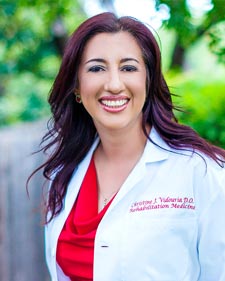 Recognized as a leader in diagnosing and relieving pain, Dr. Christine Vidouria practices a philosophy of patient education, active listening and cutting-edge technology. She is committed to the individual needs of each patient, and provides customized care for relief of on-going pain.
Dr. Vidouria's personal approach has made her a primary advocate in pain management. Her experience is broad as she has been successful in treating persistent migraine pain, spine pain & spasticity; as well as managed pain medicine in a large acute medical rehabilitation hospital.
Originally from San Antonio, Texas, Dr. Vidouria attended the University of Texas at El Paso on an athletic scholarship and completed her Doctorate of Osteopathy at the University of North Texas at Fort Worth and Texas College of Osteopathic Medicine.
Dr. Vidouria is board certified in Physical Medicine and Rehabilitation. She is also fellowship trained and board certified in interventional & chronic pain management.
In addition to the dedication she shows her patients, Dr. Vidouria is a devoted wife and mother.
Features & Spotlight
American Academy of Physical Medicine and Rehabilitation
American Pain Society
Texas Osteopathic Medical Association
Bexar County Medical Society
American Medical Association
International Spine & Interventional Society
---
Dr. Xu
Dr. Xu completed her interventional pain management fellowship at UT Health San Antonio where she was awarded "Fellow of the Year" and physical medicine and rehabilitation (PM&R) residency at Mount Sinai School of Medicine at in New York City.
Through her training, she acquired a diverse set of skills including electrodiagnostic medicine, ultrasonography-guided joint injections and nerve blocks, fluoroscopic-guided spine injections, radiofrequency ablation, and neuromodulation.
She is experienced in caring for patients with musculoskeletal disorders, sports injuries, spinal cord injury, brain injury, and other conditions associated with chronic pain.
Prior to her medical training, she completed her bachelor's in biomedical engineering at Johns Hopkins University and continues to apply the same analytical principles and problem-solving techniques to find creative solutions in medicine.
Dr. Xu emphasizes a multi-disciplinary approach to help her patients maximize function, independence and quality of life.
Contact Us